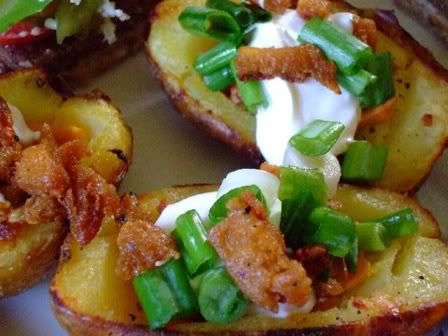 4 small/medium potatoes (any kind!)
olive oil
salt and pepper
1/2 package firm tofu, frozen, thawed, and squeezed
4-5 tbs soy sauce
2 tsps liquid smoke (less if you don't want smoky bacon)
2 tbs nutritional yeast
canola/safflower/sunflower oil
2 slices packaged vegan cheeze OR 4 tbs nutritional yeast mixed with water and a sprinkle of salt (thick sauce)
Tofutti (or tofu) sour cream
2-3 green onions, sliced
Preheat oven to 425 degrees. Scrub potatoes, dry, and rub with olive oil, and salt. Place potatoes on baking sheet, and bake at 425 for about one hour, or until thoroughly cooked. If you want to do a quicker version, you may cook the potatoes in the microwave. Leave the oven on (or turn it on, if you used the microwave method, and turn to 450). While the potatoes are baking, prepare your bacon. Heat canola/safflower/sunflower oil in nonstick pan. Chop the frozen, thawed, and squeezed tofu into small cubes/pieces. Add the tofu to the oil, and occasionally stir around until totally fried, golden, and crispy. Meanwhile, mix the soy sauce, liquid smoke, and some pepper (this is the "bacon" recipe from vegweb, that I modified). After the tofu is done, take the pan off the heat, and add the liquid mixture. You need enough to cover every piece. If you need to cook off some liquid, put the pan back on the heat for a few seconds. After most all of the soy sauce mixture has been absorbed, sprinkle in the 2 tbs nutritional yeast, and stir around. Put this off to the side.
Continue to check your potatoes, and once they are done, set them off to the side (off of the pan, for quicker cooling) and let them cool enough to handle. You may chop your green onions while you wait, or mix up your nutritional yeast sauce, if you are using that for the cheeze.
Once you are able to handle the potatoes, slice them each in half, lengthwise. Using a tablespoon, scoop out the very middle of the potato, and save it for later. For crispier skins, scoop out more potato. I like to leave about 1/4-1/2 inch of potato along the edges of the skin. Spray a bit more olive oil onto the tops of the potatoes, and sprinkle with pepper (you may also sprinkle with salt, but I usually have a good layer on the outside). Place the skins back in the oven for 10 minutes, then turn over, and bake 10 minutes more.
Once they are done, and crispy, take them out, and assemble! Once again, leave the oven on, and turn to broil. Add a piece of vegan cheeze slice, or about 1/2-1 tbs nutritional yeast sauce to each potato, and place in broiler for a couple of minutes. You may also use vegan sprinkles, or whatever cheeze you like. Take the pan out, and add a generous sprinkling of tofu bacon crumbles, a dollop of "sour cream," and a sprinkle of pepper, and green onions. Yum!